New Book: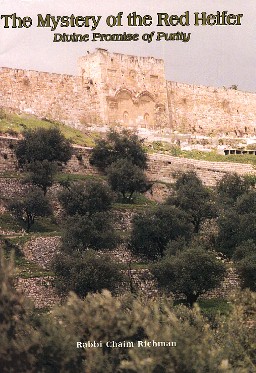 The Mystery of the Red Heifer:
Divine Promise of Purity
by Rabbi Chaim Richman
As Israel moves closer towards the building of the Third Temple, only one thing is missing...the ashes of the Red Heifer, required by the Bible for purification.
What is the red heifer...and what is its mystery? Why is it so important? Is there a red heifer today...how close is Israel to finding one?
The renewal of the red heifer has captured the attention of millions, but reliable information has never before been available from an authentic Jewish standpoint. Now, The Mystery of the Red Heifer provides the answers to these questions and many others. For the first time, all of the background, stories, laws and wisdom relating to this unique Biblical commandment are presented in one authoritative volume. Also included: the exciting, unfolding drama of the red heifer for Israel's coming Third Temple.
Rabbi Chaim Richman, author and translator, is an internationally acclaimed authority on the Holy Temple and the prophecies concerning the future of Israel and the world. He has been associated with the Temple Institute of Jerusalem for many years, and is the founder of Light to the Nations, an organization which seeks to build a bridge of understanding between Jews and Christians. His previously published works include The Odyssey of the Third Temple and The Temple Haggaddah (translated from the Hebrew), and The Holy Temple of Jerusalem. (from the back cover) 79 pages. Copyright 1997 by Rabbi Chaim Richman, Jerusalem, Israel

To order: In the United States, send $10.00 plus an additional $2.50 for shipping and handling per copy to:
Dean Hubbard, President
Email: (koj@knowledgeofjesus.org)
Knowledge of Jesus, Inc.
3002 Prince George Road
Hattiesburg, MS 39402
Phone 601 268-9126
To contact the author or order the book outside the U.S.:
Rabbi Chaim Richman
"Light to the Nations"
PO Box 31714 Jerusalem, Israel
Fax: 972-2-5860453 Voice: 972-2-5865492
E-mail: crlight@netvision.net.il
Coming Soon: http:\\www.lttn.org
---
Recent Developments
U.S. MINISTERS AND ISRAELI RABBIS ARE JOINING HANDS
IN A RESTORATION MINISTRY
Over the past several years JoAnn and I have enjoyed watching God do a phenomenal work. However, we could say little about it until now, a time when you have an opportunity to get involved. The red heifer of Numbers 19 has brought together a group of Christian ministers and Israeli rabbis that love God. This has been done without division, without arguments and with great love and respect between them. Now you can join them in a history making biblical project.
It all started on September 18, 1990 when Reverend Clyde Lott of Canton, Mississippi mailed his first letter to Israel. God had prompted him and he was trying to find out about the red heifer spoken of in Numbers 19. He wondered where these cattle came from and exactly what they looked like. This brought Rabbi Chaim Richman of the Temple Institute into the picture. During 1991 and 1992 these men were laying groundwork for what is now the red cattle program for Israel.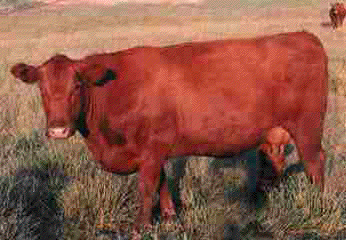 In 1994 Clyde phoned and invited JoAnn and me to come and meet Rabbi Richman, a man many U.S. citizens now know because of his visit to their churches. On November 10, 1994, this orthodox rabbi laid his hands on Clyde's perfect red heifers. This was the first time in over two thousand years a rabbi had touched such a cow. It was a historical event. Now, a new, non-profit corporation, Canaan Land Restoration of Israel, Inc., with Clyde Lott as president will ship plane loads of red cattle to Israel, 140 heifers per load. The first shipment is scheduled for August 1998. Because of this many Christian people are going to be blessed, blessed by giving red heifers to this restoration program.
God said to Abram (Abraham), I will bless those that bless thee, and curse him that curseth thee: and in thee shall all the families of the earth be blessed (Gen. 12:3). We know that Jesus, by His mother's lineage, was an offspring of Abraham. Therefore, the promised blessing is still in force. This is why Christians can bless the offspring of Abraham, Isaac and Jacob and in turn be blessed by God.
Today, we see many examples of Christian love for Am Yisrael (the people of Israel) and Yertz Yisrael (the land of Israel). It is their desire for Jewish people to turn to God. Now there is a way for you to help bring this about. It is through Canaan Land Restoration of Israel, Inc./Emmet Bet Sheroot, a Georgia corporation established by several ministers. In addition to Clyde there is the corporation's vice president, Rev. Guy Garner, Jr. of Georgia, the Secretary-Treasurer, Rev. Alfred Bishop of Tennessee and directors Rabbi Chaim Richman of Jerusalem. (Others will be added.)
All the ministers in this work are well respected men of God, but the focus is on Clyde Lott and Chaim Richman. Clyde is a licensed minister, a graduate of Mississippi State University where he majored in animal science. He is a prominent cattleman working cattle shows throughout the U.S. Chaim Richman is an Israeli, but he was born, raised and educated in the Unites States. He is highly respected among the orthodox rabbis. This helps him as he works with Israeli attorneys, government officials, etc. getting ready to receive the red cattle as fast as they can be shipped. Obviously the cattle farms, grain farms and grassland will occupy a large amount of acreage while restoring the land. (Israel now imports about 80% of it's beef, so shortly the farm should be self-sustaining.)
Clyde will soon be in Israel maintaining the farms. Because he is a minister, ministry will be a part of his Israeli work. This will be done through Emmet Bet Sheroot (Faithful House of Service). In Israel, Emmet Bet Sheroot will foster New Testament Bible schools while rabbis continue to teach the Torah, Nevi'im and Kethuvim (Old Testament).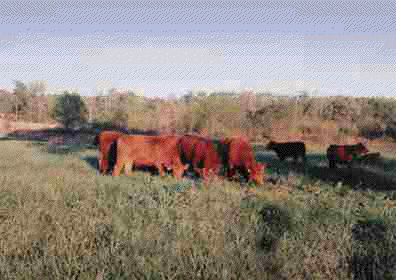 Back to the red heifers and you. Clyde has been working with cattlemen in other states, preparing a herd of red cattle for shipment. These cattlemen must be paid for their efforts as the heifers are moved to Israel. The cost of each cow is $1,000, a conservative price for blue ribbon cattle. As a gift to the non-profit corporation, one can purchase one or more red heifers, pay $500 for one half or $250 for one quarter, pay for plane fair at $341.00 per heifer, make a monthly donation, make a one time gift or become a member of Emmet Bet Sheroot Ministries. For more information contact the corporation's Secretary-Treasurer, Rev. Alfred Bishop, 85 Spann Street, Waverly, TN 37185, Phone 931 296-3939. If you perfer you may inquire by e-mail. Send this to, canaanland@jerusalemail.com
Thanks to your prayers, God's grace, mercy, the work of Jesus Christ and the anointing of the Holy Spirit JoAnn is still getting stronger. She is almost back to her full strength. She has made several trips without pain. One was over 300 miles in a single day. Her oncologist looked at her latest blood work and said, "Praise God." He then told us that her blood was back to normal. Now she needs for the Lord to repair the nerves damaged by radiation, and we know He will complete a work He has started.
R. Dean Hubbard
3002 Prince George Road
Hattiesburg, MS 39402
Phone 601 268-9126
Email: koj@knowledgeofjesus.org
Web Site: http://www.knowledgeofjesus.org
---
July 7, 1997, July 10, 1997. July 7, 1998.